EP Seville
The President of the Board, Juanma Moreno, announced this Thursday in the second session of the Debate on the State of the Community that Andalusia will have an Office of the Ombudsman for People with Mental Health problems before the end of the year to respond to complaints, share suggestions and mediate conflicts.
During her intervention before the plenary session of the Andalusian Parliament, Moreno has reiterated that the modernization of public health is a priority for her government, to which she has assured that modernizing services is adapting them to new realities.
In this sense, he has indicated that anxiety, depression or eating disorders cannot be invisible and that the Andalusian Executive is aware of this, so now there are services that did not exist before, such as units specialized in eating behavior disorders , clinical psychologists in the Mental Health Units with the horizon of reaching one professional per unit or the preparation of the first study with representative data on the psychological consequences of Covid-19.
On the other hand, Moreno has announced that a new line of aid for rural women will soon be activated in Andalusia to promote shared ownership of agricultural holdings, at the same time that he has stated that the Network of Fish Markets will be launched Digitales de Andalucía for the direct sale of the acasa boat, which is a real catalyst for Andalusian fishing, the Board reports in a statement.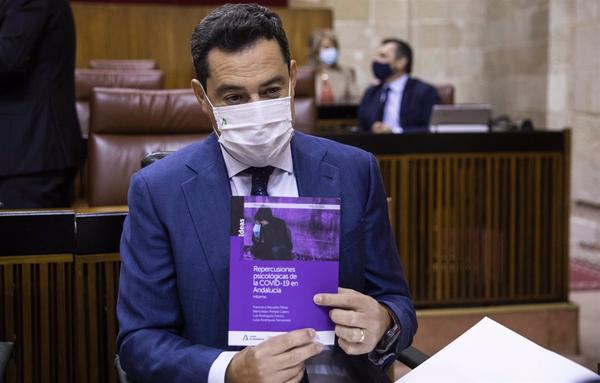 He also recalled that the Andalusian Government has involved Andalusian society in reaching an Andalusian Pact for Water with one hundred measures and with an unprecedented investment to modernize and improve the hydraulic heritage, with 104 million for automation and digital management of the dams, to reinforce safety and prevent water losses.
In this sense, he pointed out that this week the Plan for the Reuse of Regenerated Water will begin, which will provide the Andalusian community with 43 cubic hectometers of water and that it will begin with four actions in Axarquia, and he stressed that next month the first work of the drought decree to make the most of rainwater.
Moreno has highlighted that the reformist agenda of the Andalusian Government not only innovates, but also relaunches projects in the eight Andalusian provinces that have been "forgotten for years" such as the Almanzora motorway in Almería, the second phase of the Bahía de Algeciras Logistics Area in Cádiz , the development and marketing of the Higuerón Logistics Area in 2022 in Córdoba, the Granada Metro and the South and North expansion projects in Granada, the lighting of the Odiel Bridge in Huelva, the Linares-Vadollano railway connection in Jaén, the metro of Malaga through the historic center or the drafting of the projects for Line 3 of the Seville Metro.
Juan Manuel Moreno Bonilla,AndalusiaTrends